Back
New Jersey(NJ) IFTA Fuel Taxes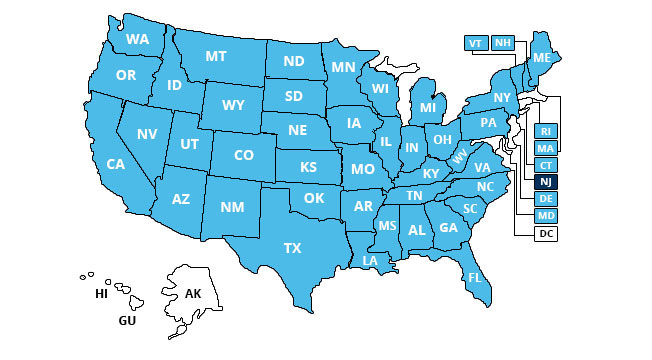 Who Is Required To Register?
A qualified motor vehicle is a motor vehicle used, designed, or maintained for transportation of persons or property having:
Two axles and a gross vehicle weight or registered gross vehicle weight exceeding 26,000 pounds or 11,797 kilograms; or
Having three or more axles regardless of weight; or
Is used in combination, when the weight of such combination exceeds 26,000 pounds, or 11,797 kilograms gross vehicle or registered gross vehicle weight.
Qualified Motor Vehicle does not include recreational vehicles unless they are used in conjunction with any business endeavor. Recreational vehicles are vehicles such as motor homes, pickup trucks with attached campers and buses when used exclusively for personal pleasure by an individual.
New Accounts
You will need to complete an application form and submit it. You should receive the decals in 1-2 weeks or you can bring in the application to receive decals the same day. There is a $10 fee for each set of decals. You will need one set per qualified vehicle.
TSNA can assist you with the application process. Already have your IFTA license? Let TSNA assist with your annual renewal and filing your quarterly tax return.
Renewals
Renewals can be completed online or by mail. There is a $10 fee for each set of decals. You will need one set per qualified vehicle.
Quarterly Returns
A quarterly IFTA return must be filed by the due date:
| Tax Return Reporting Quarters | Due Date |
| --- | --- |
| January - March | April 30 |
| April - June | July 31 |
| July - September | October 31 |
| October - December | January 31 |
* If the due date falls on a Saturday, Sunday or legal holiday, the next business day is considered the tax reporting filing due date.
Note: A quarterly fuel tax return must be filed even if the no fuel was used.
Penalties
There is a late penalty of $50 or 10% of the net tax liability, whichever is greater. Interest is computed on all delinquent taxes dues each jurisdiction at a rate of .4167% per month. Even if you have a net refund, interest still applies to each jurisdiction for any underpayment of fuels use tax to that jurisdiction and is calculated beginning the day after the due date of the return for each month, or fraction of a month, until paid.
See www.state.nj.us/mvc/Commercial/IFTA.htm for more details.
Confused? The quarterly filing process can be tedious and time consuming. Let TSNA take the paperwork out of your way by preparing and filing your Quarterly IFTA returns for you! We have a one-time account setup fee of $50 and a $75 quarterly filing fee per vehicle. (Contact us for multiple vehicle pricing)
Back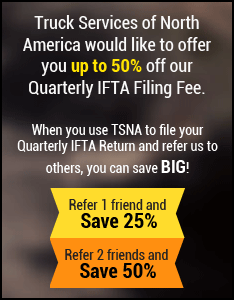 Latest Tweets
Latest Blog Posts
IRP Renewal Season Starts Now
Fall isn't the only new season to come knockin' on your cab door.October is nearly here, which can only mean two things for truckers: It's not only getting close to ...
#NTDAW2014: Thank You from our Team at TSNAmerica
It's National Truck Driver Appreciation Week, and what better time for Truck Services of North America to say thank you, not just to our clients, but to the 3 million ...
BOC-3: What Is It & How Do I Get It?
"You've been served!"Words no one ever wants to hear, but unfortunately, litigation is a part of life. That's exactly why the FMCSA (Federal Motor Carrier Safety Administration) requires all interstate ...
$625
Basic Authority
Package
FMCSA Authority (MC#)
US DOT Number
BOC-3
EIN Number
$895
Premium Authority
Package
All services included in
Basic Authority Package
UCR
IFTA
IRP
Form 2290 HVUT
$1195
Complete Authority
Package
All services included in
Premium Authority Package
KYU Number
NYHUT
OR Weight-Mile Tax
NM WD
$75
IFTA Packages


IFTA Basic: $75 Quarterly.
IFTA Premium: $110 Quarterly.
IFTA Complete: $150 Quarterly.